12 Best Flooring Options for Basement Guide (2021 Update)
More than 60% of all basements in the US report a moisture problem. Many homeowners battle to find appropriate basement flooring because of issues like this one.
Choosing the best flooring for your basement can be a blast. Read on for all the essential information you need before choosing basement flooring.

In Short
Many basements have moisture problems
Waterproof options like ceramic tile, vinyl, rubber, paints, and stains are best for damp basements
Floor paints, epoxies, and stains are the most affordable options, and vinyl is a close second
Most laminate flooring options, carpets, and hardwood don't deal well with flooding
Many flooring products require an even subfloor, or you risk voiding the warranty
Paints, epoxies, and stains are the best option for uneven concrete floor

Things to Consider Before Buying Basement Flooring
When you're ready to buy your new basement flooring, you need to consider the main attributes you'll require. I've listed a few of the major considerations:
Moisture levels—Many basement floors suffer from frequent flooding or excessive moisture. A floor for a damp basement needs to be water-resistant or waterproof.

Remember to consider the water-resistance of both the upper and lower layers of the product since the concrete floor can act as a wick. For example, some laminate floorings are water resistant, but they have absorbent lower layers. Most vinyl planks are entirely waterproof.


Basement purpose—The room's purpose can be a significant factor when trying to choose an appropriate flooring material. While rubber flooring is excellent for a workroom or playroom, it's probably not appropriate if you're using your basement as a guest lounge.


Wear and tear—A basement's purpose also bleeds over into the amount of wear the floor will see. Are many people going to use your new floor? Might it have tools falling on it? Is it liable to get very dirty? All these things contribute to finding the appropriate basement flooring material.

For example, vinyl flooring with a thick wear layer will work well in a lightweight workroom, while hardwood would damage quickly. Hardwood is excellent for areas with high foot traffic, though. Rubber would deal well with tools falling on it, but it's not much to look at.


Budget—While this is possibly the most obvious consideration, it's essential. Hardwood floors are beautiful, but they're also expensive compared to laminates. Vinyl is often affordable, but the cheapest types may lack durability. Always construct a detailed budget before you choose your basement flooring option.


Radiant heating—Not every type of flooring works equally well over a radiant heating system. If you have underfloor heating, it's essential to check the specific product's requirements to see if it works for that application.

Many types of vinyl and laminate work well over radiant heating, as do hardwood and carpets. The trick lies in checking the specific brand that interests you.

1. Laminate Flooring
Laminate flooring offers a sliver of true wood in a layered product—the real wood-look for less.
Approximate Pricing of Laminate Flooring
This type of flooring is relatively inexpensive. It spans the middle range of our basement flooring options at around $3-$8 per square foot.
Ideal Uses of Laminate Flooring
Laminate flooring is ideal for most basement uses. 
It's not a wise choice for basements that flood, as even waterproof options don't deal well with standing water. If you have a damp basement and you seal the laminate, then the waterproof types should work.
If your basement is dryer than most, and you use it for a family room or similar, then laminate is ideal.
Floor Sizes of Laminate Flooring
Laminate flooring widths and lengths vary significantly, even within the same brand. 
Most brands have some wider products and some narrower ones. Standard boards are between five and seven inches wide. Most laminate flooring boards are about 48 inches long. 
Color & Style Range of Laminate Flooring
Laminate flooring comes in a wide array of stone and hardwood designs. It enables you to get that wood flooring look in your basement for much less. 

2. Sheet Vinyl
Old and trusted, sheet vinyl offers affordable versatility with easy installation.
Approximate Pricing
Sheet vinyl is one of the most affordable flooring options for basements. At only $1-2 per square foot, few alternatives compare favorably. 
Ideal Uses of Sheet Vinyl
Depending on the product you buy, vinyl sheet flooring (VSF) is ideal for many purposes. The cheapest options don't have thick wear layers, so they're perfect for basements that don't experience heavy use. 
Thanks to its waterproof nature, vinyl is ideal for damp or flooded basements. Most products have an attached underlayment, so you can install them on a concrete floor. 
Floor Sizes of Sheet Vinyl
VSF comes in a wide array of different roll widths that vary between producers. The commonly accepted standard is 12 feet wide, but you may encounter other widths.
Color & Style Range of Sheet Vinyl
Stylistically, VSF is one of the most versatile basement flooring options. You can buy styles that look like a diner floor, stonework, hardwood, or random animal patterns. The options are limitless.

3. Luxury Vinyl 
More durable vinyl products with better stain resistance—luxury vinyl is supercharged.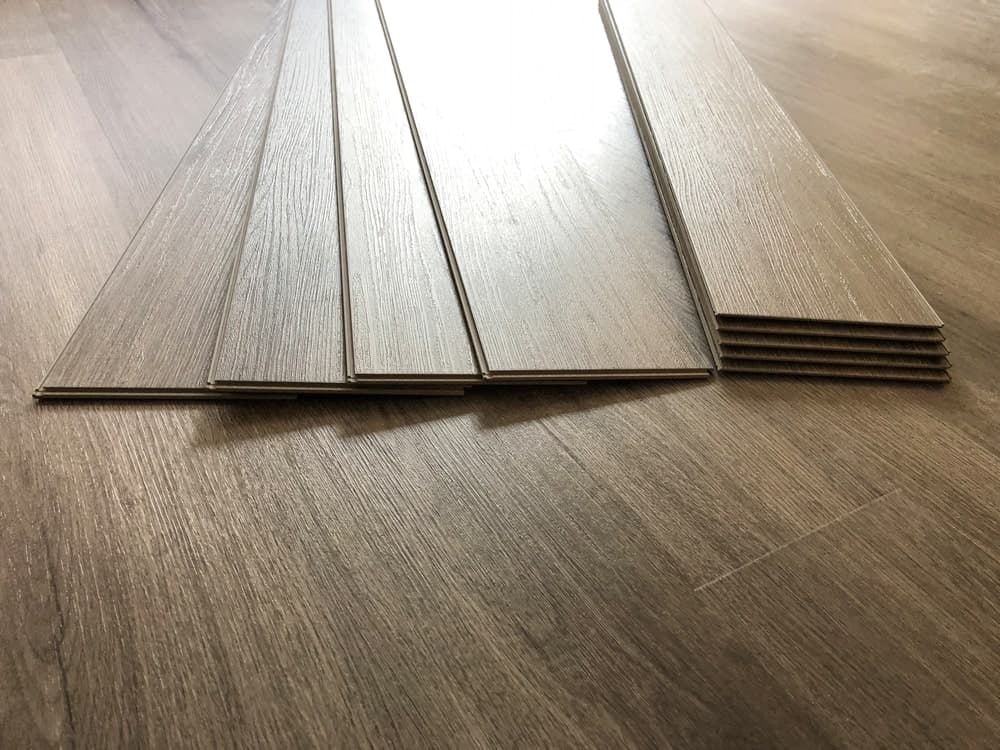 Approximate Pricing of Luxury Vinyl
Luxury vinyl flooring (LVF) has a similar price range to laminate flooring. You'll pay around $5-10 per square foot.
Ideal Uses of Luxury Vinyl
LVF is one of the best choices for damp and flooded basements. Most luxury vinyl is 100% waterproof, which means it's up to the task. Some products may feature absorptive underlayment or cushioning layers, so check the details before buying.
Many luxury vinyl plank products have a thick wear layer. Some types sport a 40 mil protection layer, making them ideal for even hard-working basements. 
We recommend luxury vinyl for basement bathrooms and living rooms.
Floor Sizes of Luxury Vinyl
Most vinyl plank flooring has a width of five to eight inches and is 36 to 48 inches long. Luxury sheet vinyl shares the standard width of regular VSF, at 12 feet.  
Color & Style Range of Luxury Vinyl
Luxury vinyl flooring has as many designs as standard vinyl flooring. You can dress your basement floor with wood, stone, or UFOs. If you buy luxury vinyl plank, you'll have to settle for stone or wood-look boards. 

4. Engineered Hardwood
Engineered hardwood is like laminate, but primarily features a wood layer.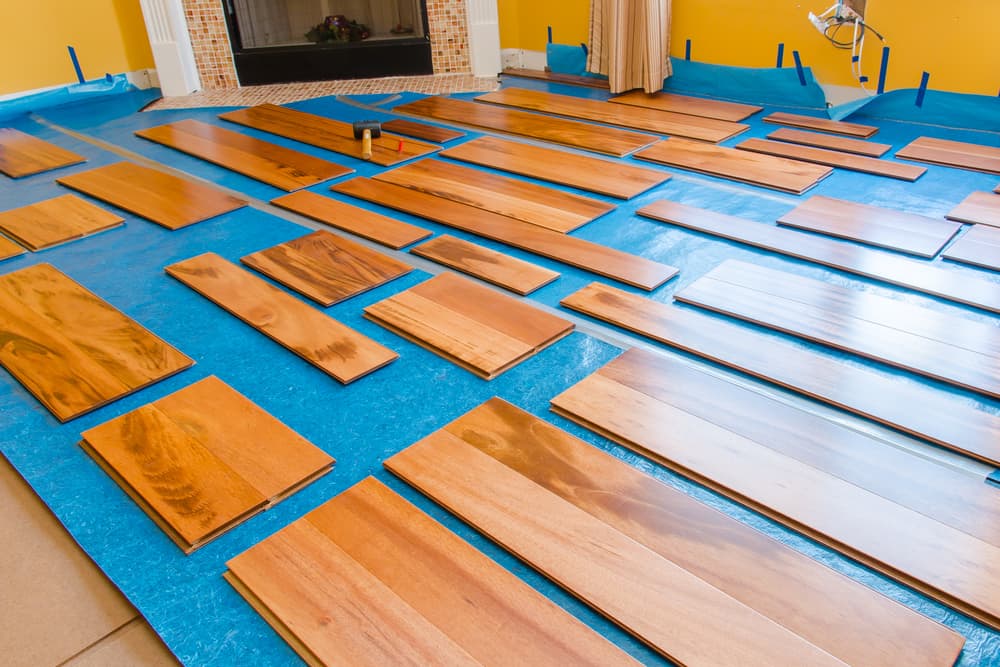 Pricing of Engineered Hardwood
Engineered wood has a diverse price range attached. You can pay anything from $1 per square foot (for engineered bamboo) to $150 per square foot (for expensive woods like walnut). 
Ideal Uses of Engineered Hardwood
You can safely use this type of flooring in damp spaces, as long as you seal any joints. It's not the best flooring for basements that frequently flood since it doesn't handle standing water well.
If you're using your basement as a living space, this flooring will serve you well. You can install most brands over radiant heat, and you don't need to pay for professional installation.
Floor Sizes of Engineered Hardwood
Engineered hardwood sizes vary between brands and producers. Most boards are 3-12 inches wide. You can buy different widths to use together, giving your basement a distressed wood look.
Standard engineered wood flooring is 3 feet long—having standard lengths gives you an excellent opportunity to work out how much you need. You can alternate longer boards with shorter ones to give a true hardwood style.
Color & Style Range of Engineered Hardwood
Engineered hardwoods are only limited by the range of wood species on offer. From bamboo to cherry, oak, acacia, and walnut, the range is huge. You can get that perfect hardwood look for your basement floor without the price tag that goes with it.

5. Rubber Flooring
Rubber flooring offers durable versatility, at the cost of style.
Pricing of Rubber Flooring
You can expect to pay around $8 per square foot for rubber flooring.
These products simply click together and are a simple DIY project, which means no installation costs. You also won't need a water barrier since rubber flooring is naturally waterproof. Both of these things cut down significantly on the overall cost.
Ideal Uses of Rubber Flooring
If you're using your basement as a gym, yoga studio, or playroom, a rubber floating floor is ideal. Even if your basement serves as a pottery studio, woodworking studio, or something similar, the resilience of rubber will serve you well. It's waterproof, easy to clean, and can handle having heavy things dropped on it. 
Sizes of Rubber Flooring
This type of flooring is available as both sheets and tiles. Standard sizes for tiles include 23 x 23 in., 2 x 2 ft., 3 x 3 ft., and 4 x 4 ft. Sheets come in a variety of sizes but are often thinner than tiles.
Colors and Styles of Rubber Flooring
There's a limited range of colors and styles for rubber flooring, though you should find what you need for basement use. You can also take advantage of the colors and patterns of similar products that consist of foam and other materials.

6. Carpet Tile
Carpet tile offers the comfort of carpet, and the simplicity of floating floors.
Pricing for Carpet Tile
If you're looking for an affordable material to use in your basement, you could do worse than carpet tiles. Typically, they go for between $1.50 and $3 per square foot. 
You'd also need to incorporate some kind of water barrier and an underlayment, which would cost about $3. If you decide to have it professionally installed, it may cost another two to three dollars per square foot.
Ideal Uses for Carpet Tile
Carpet tiles are an excellent choice for dry basements. This floating floor isn't water-resistant and will soon suffer from excessive moisture.
Carpet squares offer little versatility. They're comfortable to walk on and work well in a basement living area or family room. This flooring type can help create a cozy ambiance that amplifies warmth and makes people want to spend time in the room.
They don't work well for basement workrooms, are harder to clean than most floors, and may wear through quickly when subjected to heavy use.
Sizes of Carpet Tile
The standard sizes are 18 x 18 in. and 24 x 24 in. Many manufacturers also produce half and quarter tiles, so you can play around with the design. 
Designs of Carpet Tile
Carpet squares come in almost as many styles and colors as wall-to-wall carpets do. From blue to yellow and even patterned, you'll find a perfect option for any basement.

7. Ceramic Tile Floors
A trusted basement flooring staple—ceramic tile offers elegant waterproof simplicity.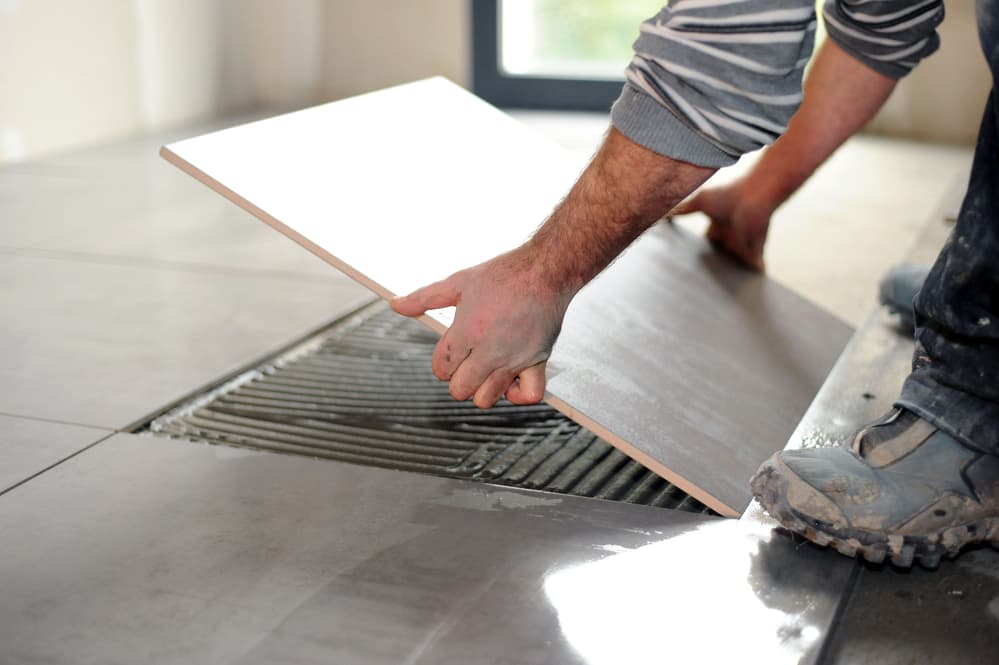 Approximate Pricing of Ceramic Tile Floors
You'll probably pay around $2.50 per square foot for the tiles alone. Tiling is a lot harder than it seems, and there's much room for error, so you may need to pay for a professional installation.  
You'd pay an additional $4-$14 per square foot to have a professional install the tiles. Add the sealant, mortar, grout, and other necessary elements to get a finished surface, and the price rockets to $13.50-$63 per square foot. 
Ideal Uses of Ceramic Tile Floors
When sealed, ceramic tile gives you a completely waterproof basement floor. Whether you're dealing with ground moisture, condensation, or another type of damp, ceramic tiles can handle it. Ceramic tile is an ideal flooring choice if you use your basement as a laundry room or bathroom.
If the basement is one of your living spaces, ceramic tiles will serve you well. If you use the room for working with heavy objects, don't choose tiles. Ceramic breaks readily when heavy things fall on it. 
Floor Sizes for Ceramic Tile Floors
Ceramic tiles come in a range of standard sizes, including: 2 x 2″, 3 x 3″, 4 x 4″, 6 x 6″, 8 x 8″, 12 x 12″, 16 x 16″, 18 x 18″, and 24 x 24″. This range of sizes makes it easy to fill even the oddest gaps in your basement flooring array.
Color & Style Range of Ceramic Tile Floors
You can buy anything from simple colored designs to stone and wood looks. Some modern designs even include pictures for children's rooms.

8. Hardwood Floors
Some of the most beautiful floors, with a price tag to match.
Approximate Pricing of Hardwood Floors
Hardwood floors aren't the cheapest basement flooring materials. For solid hardwood, you're looking at around $4-$10 before installation. Professional installation adds another $6-$10 to the overall price.
Ideal Uses of Hardwood Floors
Natural hardwood is ideal for dry, cozy basement spaces.
Even sealed hardwood flooring is susceptible to moisture and easily damaged by standing water. While some people use hardwood in bathrooms, it's not the wisest choice. 
Hardwood scratches easily, so it's not a good choice for basement work areas either.
Floor Sizes of Hardwood Floors
Hardwood boards have lengths of 3-5 feet long and 3-6 inches wide. It depends on the type of wood and the brand. 
Color & Style Range of Hardwood Floors
A hardwood floor relies on different wood species to provide color variety, but you can also stain your boards. Using different beveling types makes your floor look either more or less rustic.

9. Wall-to-Wall Carpet
Simplistic style and comfort for dry basements.
Approximate Pricing of Wall-to-Wall Carpet
Wall-to-wall carpet costs around $3-$7 per square foot. Installation costs another $1-$2 per square foot.
Ideal Uses of Wall-to-Wall Carpet
Wall-to-wall carpet is excellent for dry basement areas. Waterproof carpet can work in damp areas as well.
Durable carpet types can take a lot of wear, making it ideal for basement living areas. They provide excellent warmth and insulation.
If you suffer flooding or groundwater is a problem, carpets won't handle that well.
Floor Sizes of Wall-to-Wall Carpet
Wall-to-wall carpets come in standard widths of six inches, 15 inches, 12 feet, or 13 feet. 
Color & Style Range of Wall-to-Wall Carpet
You can buy basic color palettes, simple designs, or detailed oriental imagery. The options are limitless. 
Check out my article about the best carpet for basements for more info.

10. Floor Paint
Floor paint offers a simple, affordable flooring option. It's paint, but for your floor.
Approximate Pricing of Floor Paint
Floor paint is one of the cheapest basement floor options. You can expect to pay $0.5-$1 per square foot.
Ideal Uses of Floor Paint
Floor paint is an ideal basement flooring option that lasts. 
Floor paint is 100% waterproof, making it a perfect choice for basement bathrooms and laundry rooms.
If you choose warm colors, it's also an excellent option for living spaces. 
Spread Rate of Floor Paint
Floor paint has an excellent spread rate, which contributes to its affordability. You can expect a spread of about 400 square feet per gallon. 
Color & Style Range of Floor Paint
The color range has expanded over time. You can buy almost as many colors and textures as you can for walls.
With some practice, masking tape, and multiple colors, you can even paint your basement floor to look like a tiled floor. 

11. Epoxy
Epoxy offers versatile flooring, with limitless style options. 
Approximate Pricing of Epoxy
Epoxy floor paints cost between three and seven dollars per square foot. 
Ideal Uses of Epoxy
Epoxy paints are ideal for basement bathrooms, kitchens, and laundry rooms. Since epoxy is 100% waterproof, you can easily use it in damp basements or spaces that suffer regular flooding.
Thanks to its design potential and durability, you can easily use epoxy in living spaces. If you use your basement as a playroom, workroom, or gym, epoxy will serve you well.
Spread Rate of Epoxy
Epoxy doesn't have the high spread rate of floor paint, but still spreads well. Expect a rate of 1.6-6.5 square feet per gallon.
Color & Style Range of Epoxy
If you're willing to pay a professional (or spend time experimenting), you can create many epoxy designs. 
Online, you can find epoxy floors that look like molten lava or have glitter in them. Your imagination is the only limit to what you can do with an epoxy floor.

12. Stained Concrete
The most affordable basement flooring option by far.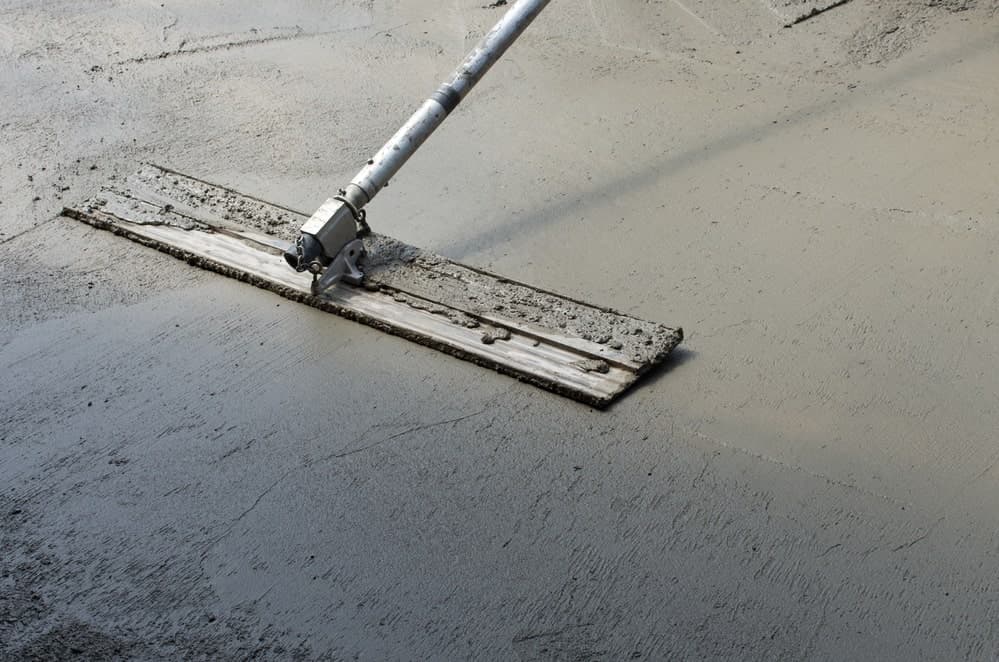 Approximate Pricing of Stained Concrete
Concrete stain usually costs between $7-$15 per square foot.
Ideal Uses of Stained Concrete
Staining your concrete basement floor is one of the best options. Unlike most paints or floors, concrete stain turns the existing floor into a beautiful project that you can be proud of.
If you seal the floor after you stain it, it's an excellent option for basements that suffer from damp or flooding. The color won't wash out if you don't seal, but the cement may absorb moisture. 
Since the color is in the floor, and concrete is hardy, this approach works for even the hardest working basements.
Spread Rate of Stained Concrete
Concrete stain gives you a better spread rate than floor paint. You can expect 400-600 square feet per gallon—ideal for a quick basement makeover.
Color & Style Range of Stained Concrete
Stains come in a limited array of colors. You can expect many hues of blue, red, and green, some of which resemble natural stone. 

What's the Best Basement Floor for Damp and Flooded Basements?
You need waterproof, resilient flooring for basements with moisture issues. The best options include ceramic tile, sheet vinyl, and luxury vinyl plank. 
If you're willing, staining or painting concrete floors creates a beautiful basement floor. Paints, epoxies, and stains are also 100% waterproof, though some may require a sealant.
Any of these options will work well for a basement bathroom, laundry room, or kitchen. They'll also hold up if the basement floods.

What's the Best Basement Floor for Concrete Flooring?
The subfloor has very little bearing on the kind of flooring you use in your basement.
Whether you have concrete or plywood, you can use most options with equal simplicity. I recommend an option like luxury vinyl, laminate, or engineered hardwood that has an existing underlayment. 

What's the Best Basement Floor for Uneven (Concrete) Flooring?
If your basement floor is uneven, your best bet is to use a stain or paint. 
For any floating floor or traditional floor, you'll need to have the concrete leveled before you can install your new product. 

How to Best Use Floating Floors for Basements
While most people don't consider floating floors a traditional flooring option for basements, they remain popular.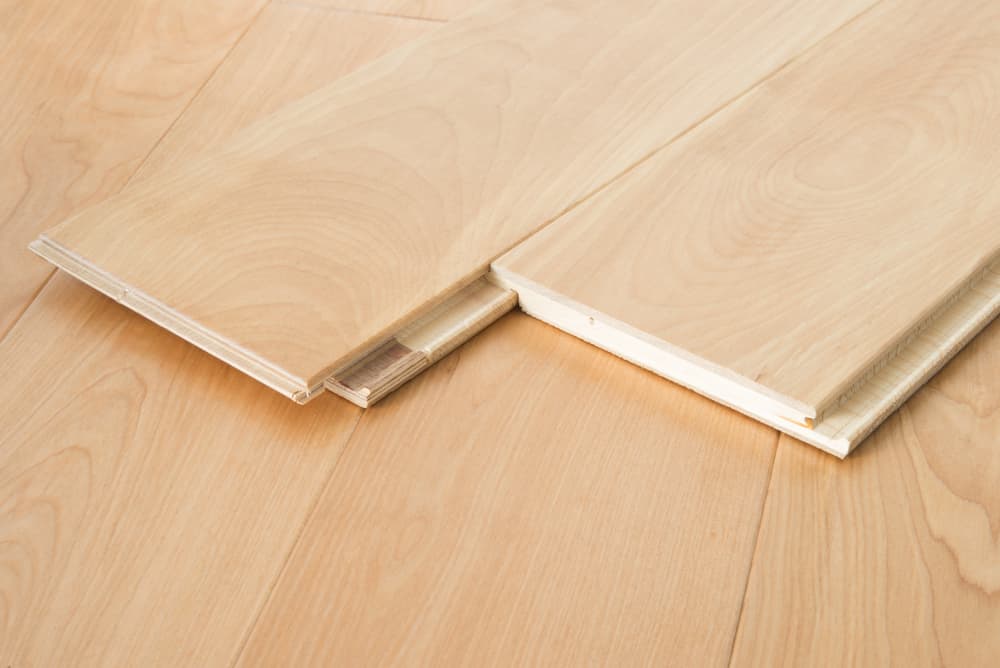 Floating floors include:
Laminate Flooring
Vinyl
Engineered hardwood
Rubber flooring
Carpet tile 
Their ease of installation is among the top factors that contribute to their popularity. You don't need to glue or attach the flooring to the subfloor, making it easier to install. 
While many floating floors are waterproof, some (like engineered hardwood and carpet tile) don't deal well with wet conditions. The wide range of watertight products like vinyl, rubber flooring, and some laminates make up for the others.
It's worth noting that waterproof floating floors like Nucore may float if your basement floods. In these cases, you'll have to reinstall the affected parts. The lack of adhesive makes this a simple task. 
The affordability and wide range of styles that most products offer is an attractive feature. You can also use most floating floors over radiant heat, but some types don't deal as well with radiant heating as others. Always check the specific product that interests you before purchasing.

When to Best Use Paints and Stains for Basements
Products that directly modify the subfloor to act as the main floor took a while to gain popularity. Examples include:
Floor paints
Epoxy
Cement stain
Despite their slow rise to popularity, paints and stains offer many useful traits.
Affordability is among the greatest of these. Cement stain is undoubtedly the cheapest basement flooring option, with floor paint a close second. Paints and stains are also easy to apply, making them easy DIY projects and saving you more money.
For damp basements, paints and stains are ideal. When appropriately sealed, paints and stains won't run—even in damp or flooded basements. There's another advantage for flooded basements: paints and stains are attached to the floor, so they won't float. 
In rare cases, floor paints may require a separate sealant to make them waterproof. Check the details of your specific product.
A final but massive advantage lies in the durability of stains and epoxies. Most products can handle the wear of heavy-use basements, and they're affordable enough if you need to patch up the floor once in a while.
The two main disadvantages to this type of flooring lie in style and use. Many paints and stains have limited color and style options, so you'll need to get creative if you want a spectacular floor. Epoxy styles are almost limitless, though.
Where use is concerned, most paints and stains work better on concrete than on plywood subfloors. Again, epoxy is an exception since it acts as both a paint and a sealant.

When to Best Use "Traditional" Basement Flooring Options
The so-called traditional basement flooring options have been firm favorites for many years. 
This group includes industry staples like:
Hardwood
Ceramic tile
Wall-to-wall carpet
A myriad of factors has contributed to the long-lasting popularity of these flooring options.
They're fixed in place and won't wash away if your basement floods, but that doesn't mean they're waterproof. Ceramic tile holds up well to moisture, but carpets and hardwood can suffer serious damage from getting wet.
Most of these options are durable and can take a medium to high wear without problems—ideal for working basements. They're also versatile and look good in any part of the house, making it easy to integrate the basement into the rest of your home.
With the possible exception of carpets, most traditional options are easy to clean—ideal for basement studios and playrooms. They also come in a variety of styles to give you that perfect style.
The only downside, apart from waterproofing, is that these options are harder to install than floating floors or stains. This also makes it difficult to replace any damaged flooring segments.
I hope this article has helped you find some of the best options for basement floors. If you'd like to know more about the different flooring types mentioned, check out some of my other articles.
You can read my tile guide if that's what interests you or read about the most durable laminate. I also have a range of comparisons like Hardwood vs. Engineered Hardwood and Tile vs. Laminate to help you discover important differences.
If you have unanswered questions, feel free to drop a comment below.